TikTok is the new giant of the social media, so you have to be there and with this tutorial you can get all free TikTok likes and followers that you want in a few steps! It's easy and free, this works like an exchange, like for like, follow for follow, you follow or like people to get points and use these points to get fans for your TikTok account or get free likes for TikTok videos. In a few words KingdomLikes works as a free TikTok followers generator without downloading any apps or share any of your credentials.
You must remember that TikTok is a social network in which it is easier to go viral compared to other social networks(Instagram,Facebook,Tiwtter), so with this hack you can improve the engagement of your content and increase your possibilities to appear in the trend section, which will make you increase your followers and likes organically and from real people.
In addition, we are so sure that this tutorial works, that we tested it and got more than 1,000 new TikTok followers in a few days. You can see the results in our official TikTok(https://www.tiktok.com/@kingdomlikesofficial) and you can see the entire procedure in the video below.
Don't waste more time a become the next famous TikToker!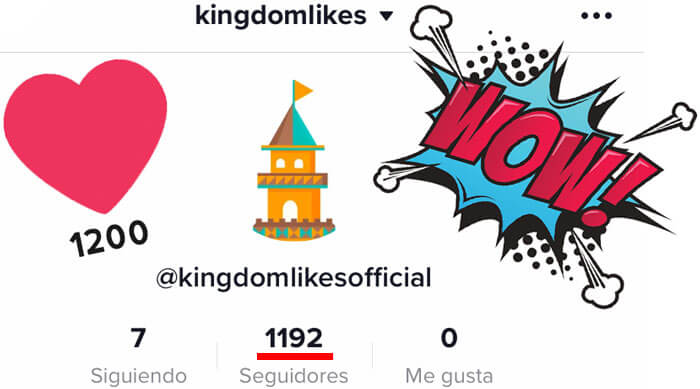 ®KingdomLikes is a website of social exchange network, all the likes that you get there are 100% real people and everything is free.
In the video below, you can see how we got free 1,200 FOLLOWERS on TikTok Account, but you can get all the followers and also likes on your TikTok Account and videos, obviously if you have enough points.
How to get more LIKES and FOLLOWERS on TikTok
• 1. Make your TikTok account Public, so other people can like your Videos or follow your account.
• 2. Get your TikTok Username or the URL of your TikTok Video.
• 3. Add your TikTok Username or the URL of your TikTok Video.
• 4. Get enought points and get 1000 followers on TikTok in one day.
WEBSITE: https://kingdomlikes.com

All the steps of TikTok hack are below:

1. MAKE YOUR TIKTOK PUBLIC
IMPORTANT! Your TikTok account must be PUBLIC, to get free TikTok Followers, so other users can be able to follow or like your TikTok Account or TikTok Videos.
So, to make it PUBLIC go to  Setting and privacy >> Privacy and safety >> Private account and deselect this option.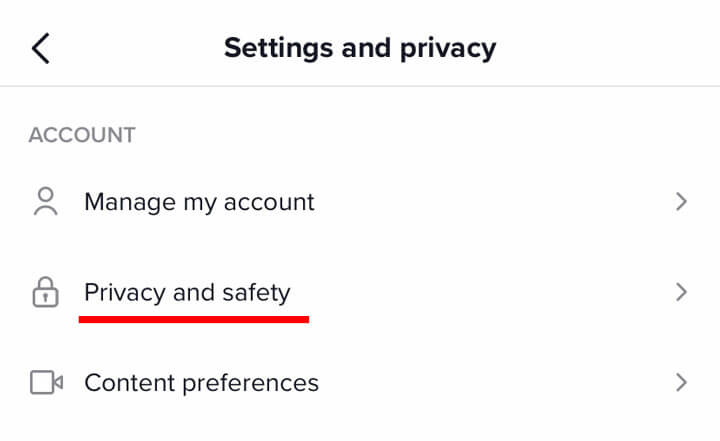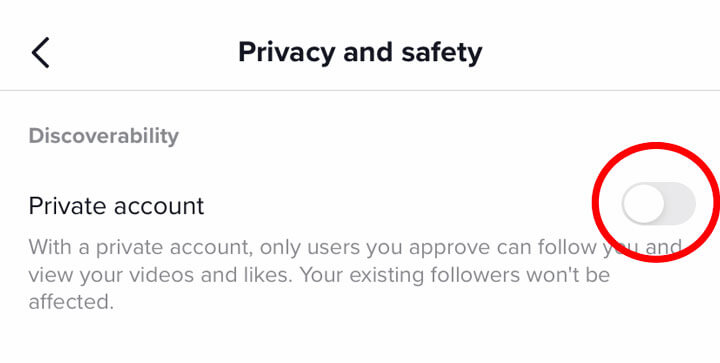 1. Click "Privacy and safety"
2. Turn off  in "Private account" 

2. Get your TikTok Username or the URL of your TikTok Video.
GET USERNAME OF TIKTOK
To get your username of TikTok is very simple, you only have to go to you profiles and is the name that is below your photo, you can see the example in the image below: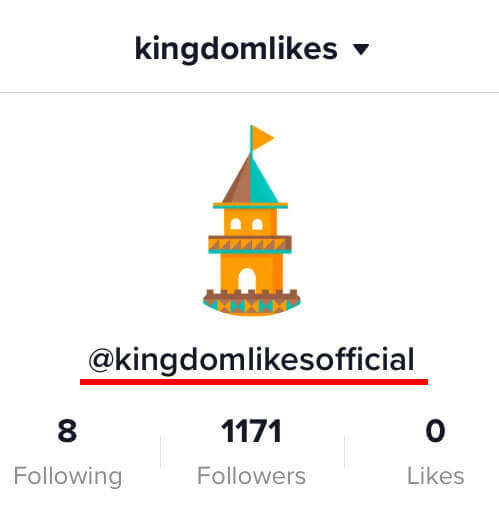 GET THE URL OF A TIKTOK VIDEO
To get the URL of any video you only have to click on "Share Button" and the select "Copy Link" and that is the URL.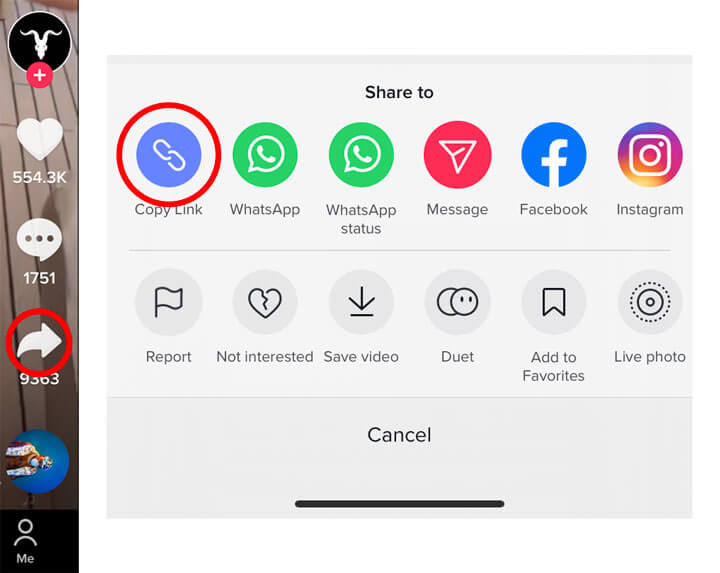 3. Add your TikTok Account or the URL of your TikTok Video to KingdomLikes
Once you got the URL of your video or the Username of TikTok account that you want to get more free TikTok likes or get more free TikTok followers, then you have to add your site to KingdomLikes to start receiving interactions.
First, you have to register on KingdomLikes and log in, then go to "Add Page", it will display a form like this below: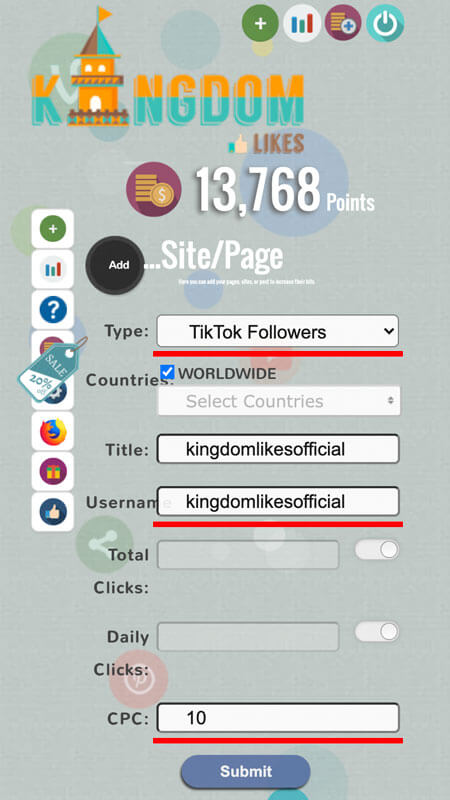 Type: Select "TikTok Followers" or "TikTok Likes" as required.
Username or URL: Put here your TikTok username or the URL of your video to get free likes on TikTok.
CPC: It is the Cost Per Click, is the cost in "Points" that you will give for one Like/Follower, if you don't have enough points you won't get interactions, for example, if you set it 10, each like/follower that you get will cost you 10 of your points, so, the higher the CPC is, the faster you get likes/followers on TikTok.

If everything is correct you will see your site added in the dashboard and active, in case your site turn in red, is because your profile is private, just change it to public and un block.
4. GET POINTS TO EXCHANGE THEM FOR LIKES/FOLLOWERS ON TIKTOK
Then you only have to wait a few minutes to get more likes/followers on TikTok, and you need to have enough Points to get all the interactions than you want on your TikTok content.
KingdomLikes is a website of likes/followers exchange that works according to points. So, to get likes/followers on TikTok you must have enough points, these points can be earned in different ways.
You can get POINTS in two ways:
You can gain Points for free by the following steps:
1. Choose any social network in the lateral bar(Facebook Likes, Instagram Likes, Youtube Likes, etc.)
2. Press on the button(Like) to open the pop-up.
3. Then, like the Facebook Page or Instagram Picture or Twitter Likes, etc.
4. Finally, close the pop-up. Then the points will be added, and you can get all the points that you want by repeating this process.



Also, you can buy Points to get free TitTok likes or TikTok followers. Kingdomlikes is the best and securest app to get likes/followers on TikTok because we have securest payment methods(PayPal), together with meager prices. Also, we don´t use fake likes/followers. As a result, all our likes/followers are from real people. The same people that use our app to get free points are the same people going to like or follow your TikTok content. Therefore you should get the likes in a very natural way without spam, cheat and without giving your TikTok credentials rather than some other autolikers.
Also, you can get 200 points daily bonus by doing 100 interactions per day.
Leave a Comment