Today we'll show you how to get LIKES on Instagram with KingdomLikes in a few steps, with this tutorial you can obtain 2,000 of free LIKES on Instagram without hashtags fast, free, without Spam, from real people, and from your country!
This hack also works to get free Instagram FOLLOWERS! Nowadays Instagram is one of the more used social networks and has a good amount of followers and likes is very important, not only for normal people but for business, because gives credibility and popularity to your products.
In the video below you can see, how we got 2,000 LIKES in Instagram Photo but you can get 1,000,000 likes on Instagram if you want with a little more time and if you have enough points.
You can see the result of this hack on the image below:
®KingdomLikes is a website of social exchange network, all the likes that you get there are 100% real people and everything is free.
HOW TO GET LIKES ON INSTAGRAM
WEBSITE: https://kingdomlikes.com

All the steps of Instagram likes hack are below:

IMPORTANT! If you don't receive the confirmation email, check your the SPAM/JUNK folder.
If it's not in your SPAM/JUNK, you can use our "ReSend Email Confirmation" tool(In the upper right corner of the main page) or you can contact our Support Center.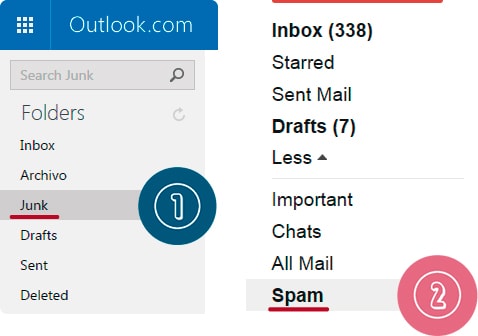 You can

 check you SPAM/JUNK folder if you don't receive the confimation email :




1. Junk Folder.




2. Spam folder.



2. MAKE YOUR INSTAGRAM ACCOUNT PUBLIC
In order to get free Instagram likes, your Instagram account has to be PUBLIC, so other users can be able to like your photo or follow your profile.
To make it PUBLIC go to https://www.instagram.ct of likes that you want dailyom/accounts/privacy_and_security/ and UNCHECK the option "Private Account".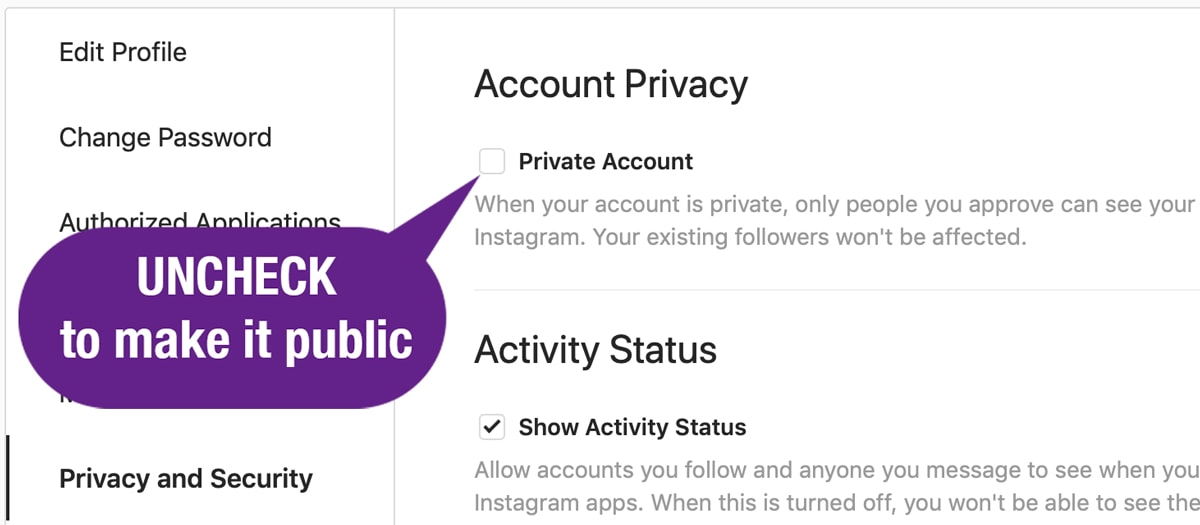 3. ADD YOUR INSTAGRAM PHOTO TO KINGDOMLIKES
Once you login to KingdomLikes and made your Instagram account public, it's time to add the photo that you want to get free likes on Instagram.
To do that you have to copy the URL of the photo. Example: https://www.instagram.com/p/Bqq7FQtF5zc/
Then go to "Add Page" and it will display a form like this: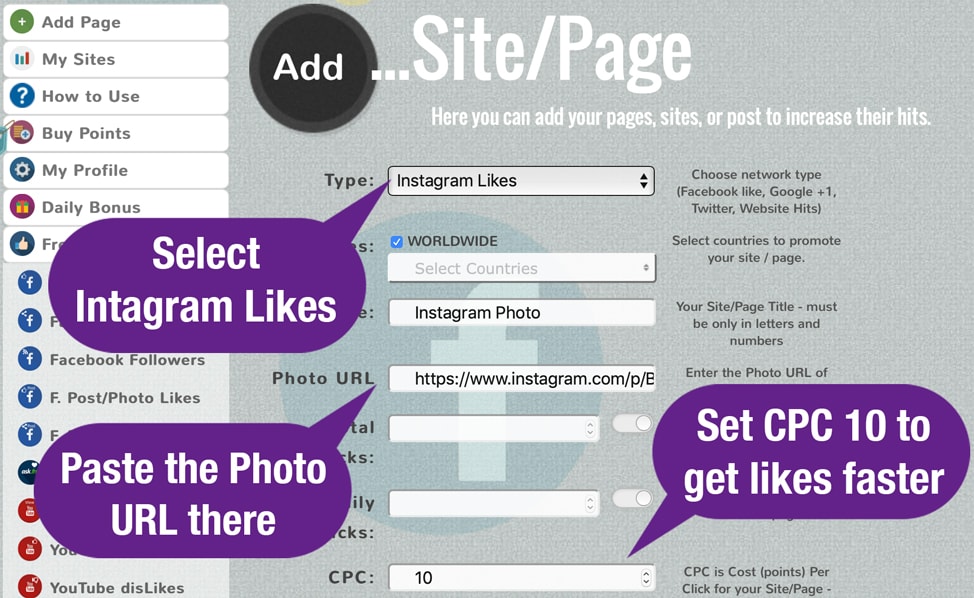 • Type: You have to select "Instagram Photo".
• Title: It is only to identify, could be whatever.
• Page URL: Here you have to paste the URL of the photo that you want to get more likes on Instagram.
• CPC: The CPC(Cost Per Click) is the cost in Points of any like you get on your Instagram photo.
For example, if you set it 10, each like that you get will cost 10 of your points.
The higher CPC the faster you get likes on Instagram.
• Total Clicks: With this option, you can set the Total limit of likes that you want.
• Daily Clicks: With this option, you can set the Daily limit of likes that you want daily.
If all the process was successful, your site will be added like in the picture below and will start to receive a lot of likes.

4. GET POINTS TO CHANGE THEM FROM FREE INSTAGRAM LIKES
KingdomLikes is a website of likes exchange that works according to points. So, to get likes in Instagram you must have enough points, these points can be earned in different ways.
You can get POINTS in two ways:
You can get Points for free by the following steps:
1. Choose any social network in the lateral bar(Twitter Followers, Instagram Followers, Youtube Likes, etc)
2. Press on the button(Like) to open the pop-up.
3. Like the Facebook Page or Instagram Picture or Ask.fm Likes, etc.
4. Close the pop-up. Then the points will be added and you can get all the points that you want by repeating this process.
If you do these steps and you have a good amount of points, you only have to wait a few moments to start to get more likes on your Instagram Photos.
You also can get 200 points daily bonus by like 50 photos.
Instagram has become the default social network in the world and accepted internationally if you are a person who travels constantly you should have a good Instagram profile in order to socialize and maintain contact with the people you meet in your travels. Another benefit of "Get likes on Instagram" is the social acceptance and preselection generated by society since with that power of influence you can generate income via sponsorships.
That's why this post of "Get likes on Instagram" was created to help you achieve that goal.
Any question that you have, please tell us in the commentaries.
Leave a Comment